The Pointe-Saint-Charles Art School offers a variety of sculpture classes and workshops for students of all levels and walks of life.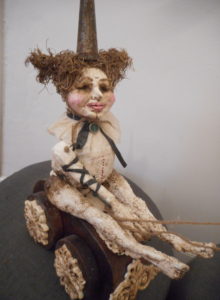 Pulp Paper Sculpture
This class will explore the creative possibilities of sculpting with pulp paper, focusing on figurative works. Students will learn papier maché construction methods, building small armatures to create 3-D artwork, along with a variety of finishing options. This class is designed to be an introduction to this method, in order to show it is possible to use papier maché as a sculptural medium. The exercises will focus on creating form, working with pulp paper materials, and exploring surface treatments. Participants will have time to create a few small objects and explore finishing techniques. Handouts for obtaining materials and an outline of techniques will be provided. No previous sculptural experience is necessary: appropriate for beginner and intermediate artists.
$20 materials cost (to be paid to the instructor)
Saturdays, April 7 – 28, 9:30 – 12:30 pm
4 weeks: $115 + tx
Instructor: Anne Brisson